It's that time of year again…the horrible holiday music filled with fake cheer and obligatory gift giving. Cynical you say? I'm not a huge fan of December in general. However, what better way to offset the phony holiday spirit with a nice collection of year-end horror films. 2016 was not necessarily a landmark year for horror, but it isn't without its gems. Here is my end of the year "best of" list.
Raw
This is a film that I've already written about in a lengthy review. It has almost everything one could want in a French horror film. It has tons of gore, sex, and cringe worthy moments that should satisfy most horror fans. If you can tolerate sub-titles (and you should) Raw stands out as easily one of the best horror films of the year, if not THE best.
Train To Busan
Yes, another foreign film…this time from Korea. Korean films have been upping the ante for a while now, and this film is probably tied with Raw as my best of the year. I think you'd be hard pressed to find a better zombie film in the past ten years or more. This is the film World War Z wanted to be. It truly has it all, and manages to maintain a heart & soul we just don't see in American horror films anymore. The story follows a busy father taking his daughter on a train ride to see her estranged mother. While en route, the entire country is engulfed in a full-blown zombie outbreak. They're safe on the train though…or are they? Rumor has it that the Hollywood machine has snatched this one up for remake rights. I'll bet you a cool G they fucking destroy the original films near perfect ending. Watch the Korean version, it's superb.
The Shallows
I can already feel the eye-rolls out there. This film was way better than it should've been and will go down as one of the best shark films I've ever seen. I consider myself a connoisseur of shark films, and I've seen hundreds of bad ones. Sure, the film isn't perfect, but it succeeds in all the areas that matter. Even the use of CGI is quite masterful and not too on the nose. This one has been the source of a few arguments in my horror circles, and I feel that recommending it to others has mostly vindicated me. Blake Lively heads to a secluded beach to enjoy some much needed R&R. While surfing she gets injured and lands on an outcrop of rocks during a low tide. The blood in the water attracts a hungry (and gigantic) great white shark looking for his next meal. Blake has to use her wits and ingenuity to outsmart the bloodthirsty creature before the tide comes in. The Shallows boasts on of the best jump-moment shark attacks ever committed to celluloid.
The Conjuring 2
As far as a movie that was actually scary…it has to be The Conjuring 2 hands down. I'm admittedly a sucker for haunted house flicks, and no one does it better than James Wan. I saw this film on opening weekend, and the audience was reacting very strongly. I'd wager to say that more than a few boyfriends were losing circulation in their arms, judging by the death-grip I witnessed next to me. The film does suffer from a slightly longer runtime, but when it turns up the scares, it delivers in spades. If you are not already familiar with the demon nun character by this point, prepare to lose sleep when you discover what I'm talking about. Also, she is rumored to be getting her own standalone film. Let's hope it's better than Annabelle.
Don't Breathe
OK, so this one is guaranteed to be a little controversial, and I'll be the first to admit that it was not a perfect film. However, what is does well…it does really well. This film had some really great moments of tension and some twists that this reviewer did not see coming. Although I was along for the ride, I will also admit that the ending was extremely disappointing. The ride up until that point was definitely worth watching the whole film. Fede Alvarez proved that his remake of Evil Dead was not a fluke, and that he is an extremely capable director. I can't wait to see what he has coming up next. There is already talk of a Don't Breathe sequel, and Sam Raimi recently went on record saying it is the best sequel idea he's ever heard. Strong words from a very influential auteur.
Trash Fire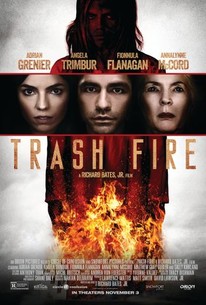 This one walks a very fine line between horror & humor. It has both, and lots of it. Anyone already familiar with Richard Bates Jr. (Excision, Suburban Gothic) should already know his sensibilities by now. Although this one plays out more like a dark comedy, it gets very creepy and unsettling towards the third act. Even while this tension is playing out, there are moments of laugh out loud levity that elevate the intelligence of this modern horror film. Adrian Grenier plays a very troubled man in a very troubled relationship. When his pregnant girlfriend insists on meeting his family, she learns that most of them were killed in a fire that was set by him as a child. As the couple goes to visit his only surviving relatives, things go from bad to worse. Maybe it's best to let sleeping dogs lie. Richard Bates Jr. has already proven himself as a master of pacing and subtlety, and he is becoming one of my favorite young directors. He's influenced by all the right stuff and it shows. He is definitely a talent to look out for in the future.
Channel Zero: Candle Cove
Yep, a television show…A Syfy channel TV show nonetheless. I went into this one with minimal expectations and I must say it blew me away. Taking a page out of the 'American Horror Story' playbook, each season of Channel Zero will be independent of each other. The source material comes form the best stories from the website Creepy Pasta. It's probably better to think of it as a miniseries. This was dark and disturbing, and was a revelation for episodic storytelling. A renowned child psychologist returns to his hometown where a series of child murders took place in the 80's, including the murder of his twin brother. The murders seem to coincide with a mysterious children's show called Candle Cove that has recently resurfaced. No one knows the origin of the show, and the mystery just builds from there. This series was definitely creepy and pushed the limits in terms of violence on basic cable. Especially since most of the violence is perpetrated by or against children. I personally can't wait to see where the series goes next time.
That's my short list for the best horror offerings of 2016. Horror always tends to be a challenging genre, as not all aspects appeal to all viewers. Hopefully one or two of these stand out for you, and I really hope you enjoy them. Until next time…keep it weird people.