Now I'll wrap up the awesome year in metal with the top 10 from my Top 25 Metal Albums of 2016 list. I can't listen to everything, but I try to keep my ear low to the ground through Bandcamp and social media, so excuse me for all the supposed egregious albums missing.
I was really looking forward to some of these, Vektor's Terminal Redux and Behexen's The Poisonous Path being a couple, and they didn't come close to disappointing. Whether it was local to Denver (Khemmis, Blood Incantation + more) or came all the way to us from Finland or Chile (Behexen, Ripper), 2016 had tons of offerings from the world of metal.
Get loaded on these albums.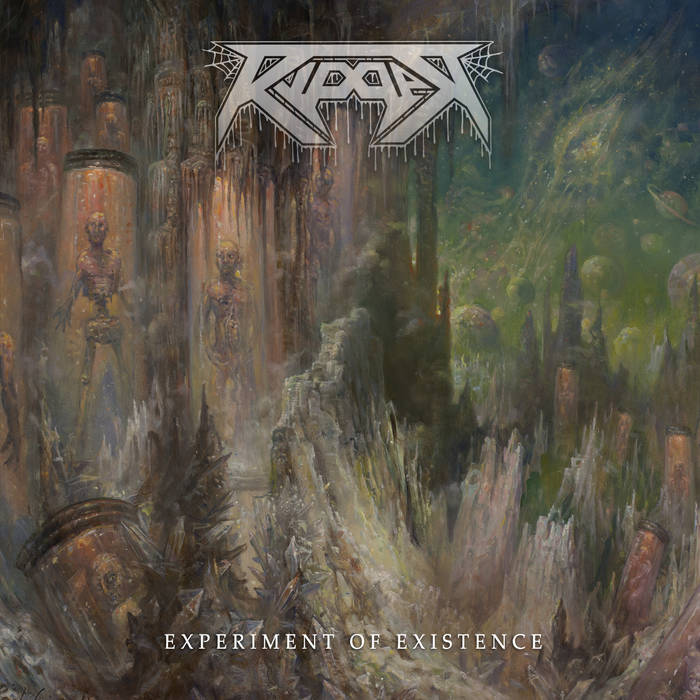 Thrash has become one of those sub-genres that has become filled with a lot of retrobands, which isn't to say they're bad, but that there is a lot of new bands that are either forgettable or just ok. Ripper is neither, they play with an urgency and heaviness that really speaks to me. It's South American thrash, they sort of have a flair for it. Ripper's second album crushed and helped give thrash an early foothold in 2016. Paolo Girardi artwork again.

9. Lord Vicar – Gates of Flesh (FIN)
If you love Pentagram and Khemmis like I do, then you need this album. This is a jump up from their last (also good) album in 2011, Signs of Osiris. Catchy, jammy, doomy slow parts, great vocals, up and down pacing … just pure awesome from Finland. Kimi Karki, the man behind Reverend Bizarre, gets doom. "Birth of Wine" is one of my favorite tracks from the entire year.

After an earth shaking debut EP last year, Colorado's Blood Incantation return with their first LP continuing their brand of cosmic death. I really enjoyed this on first listen, but it grew on me even further. Death metal doesn't have to be technical, just turn the guitars down, smash the drums at an acceptable pace and let the death growls loose. With plenty of hype proliferation preceding it, this album should be on many lists at the end of the year. Worth all $7 it costs on Bandcamp.

One of my favorites has returned and didn't fail to impress. Finland's Behexen have always been pretty furious in their playing style but this album feels like they dialed it back just a touch. I don't mind it one bit, the album still kicks ass, I can't help but feel that they toned down the sound a tiny bit. I've always felt Behexen were the best at closing out a track in glorious fashion, but I am ok with them not blowing the doors off on every track. You have to hear "A Sword of Promethean Fire."

Damn. I had somehow never heard of this project and was blown away by the split Jacob Buczarski did with Markov Soroka's Aureole. I'm a sucker for atmospheric black metal, especially if it isn't full of too many progressive features. This isn't weighed down by any of that. Sweeping, extended tremolo riffs, tight drumming and some great raw emotion. Its just so awesome.

Without losing a step or hitting a sophomore slump, Denver's Khemmis quickly turned around a killer follow up to Absolution. More kick ass riffs, vocals and all around badass doom done the Khemmis way. Opting for one less track than last year's amazing debut, and a little bit less dual vocals, I don't know if it was even necessary to have more material because this totally rocks. The title track is the balls.

After a six-year break Finland's Draugnim have returned to kick some ass with their melodic pagan black metal. I'll never stop singing the praises of the Finnish metal scene and these guys are certainly a good reason why. Very Scandinavian and very well done, this album rips front to back.

Holy shit is this third album great. Every moment is just perfection from Andy Marshall and his session guests. I can't pick a favorite track without waffling on why another is just as good. They're all great. This is an album to get lost in and an easy way to kill almost an entire hour on some identifiably Scottish black metal. Bagpipes, fiddles and tremolo picked riffs.

A ripping debut of ice-cold black metal, with a surplus of riffs and face rattling drums.  Full of Dissection worship of the highest order, this album really scratches that itch for wonderful melodic black metal of the Swedish variety while adding a bit of death metal for good measure. This album oozes cool.

Damn, I have to say the third album could be their best. Vektor just gets better with each album and the newest one kills in technical proficiency and mind blowing composition. There isn't one dull or forgettable moment in this. "Charging the Void" is an amazing opener and the last two tracks are unlike anything else the band has played before. There's a lot at work here and it really grows on repeat listens. I had a feeling this would be a strong contender for my favorite of the year.
Well that was it. 2016 (list) year is over. Time to wipe the slate clean and start a new year in metal where there will be new albums from Immolation, Kreator, Overkill, even Denver's own Cloud Catcher. Hell, maybe another one from Khemmis? There's plenty to come of soon to be great new metal.